ArielSweetDreams Escort - Interview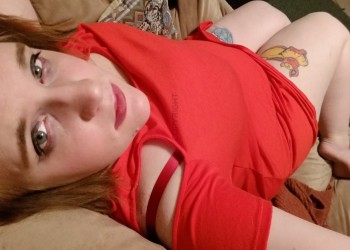 Q:Do you have a list of clients that you see regularly that you have formed a special bond with? Would you feel 'cheated' if they saw another girl like how hairdressers get mad at you if you get your hair cut somewhere else?
A:I only get upset if they start sending other girls to me for a recommendation without asking first.
Q:How do you handle first-timers or those who have limited experience with escort services? What are your suggestions to such clients to make your encounter the most enjoyable?
A:I just tell them it's a tinder date, just without the annoying bits in the beginning.
Q:If a client decided to make you a present, what would you be happy to receive? What is your wish-list (maybe flowers, lingerie, parfume, music albums, books etc.)?
A:I actually really love trinkets. Snow globes, figurines, rubber duckies, funny fridge magnets. Though I honestly love any presents.
Q:What makes you notable among other providers? What exactly, you believe, you're good at? What makes your service unique? What is your favorite kind of service?
A:I have ridiculously huge natural boobs, so my signature move is russian, of course.
Q:How do you prefer a client to make an appointment? What information is important for you? Is screening required before the appointment?
A:Texting. I hate the ones that call or email.
Q:Do you ever get nervous before meeting a client? Is it kind of like preparing for a first date?
A:Occasionally. It's a new person, always want to impress.
Q:What sort of personality qualities does someone need to possess to be a successful escort?
A:Gotta be at least a little bit of a people pleaser. And a nympho.
Q:If someone wished to become an escort, how would you recommend they go about it?
A:Not on this site, that's for sure. I fell into this easily, I'm not sure about places outside my state...
Q:What are your dreams, future goals and aspirations? Short and long term?
A:Short term, get through this semester without dying. Long term, get through school without dying.
Q:What types of clients do you deny to meet? Are there any restrictions?
A:Age, race, and experience don't matter to me. Just respect me and my time and I'll see you as many times as you want. I refuse to meet anyone who tries to haggle.
Q:What is the strangest request you have ever had from a client?
A:To poop in their mouth. I couldn't do it.
Q:Can you tell us a bit about your first escort job?
A:Talk about regret. He knew I was new and tried to get extra stuff that more experienced girls would've dismissed immediately. Luckily, I was smart and ended up saying no anyway.
Q:What did you want to be when you were growing up?
A:A rocket scientist. Still do: that's what I'm going to school for.
Q:Has being an escort changed your view of men?
A:Not really.
Q:How long have you been working as an escort?
A:Only a few months.
Q:How did you get into the escort business?
A:A friend of mine is a client and said I'd be good at it. The rest is history.
Q:What's the best bit about being an escort?
A:The ones that won't stop complimenting you. Can't turn down a good compliment.
Q:What don't you like about being an escort?
A:Some of the clients have this idea that they can say anything without consequences here. They think I'll still fall at their feet. They're wrong, of course.
Q:How often do you work per week?
A:As often as I can. More often now that classes are almost over(I'm a college student).
Q:What are your turn-offs?
A:Pushy people, haggling.
29 Oct 2017
HotChantelle Escort - Interview
Q:Do you have a list of clients that you see regularly that you have formed a special bond with? Would you feel 'cheated' if they saw another girl like how hairdressers get mad at you if you g...
Read more