Miss Banks Sacramento Escort - Interview
Q:Do you have a list of clients that you see regularly that you have formed a special bond with? Would you feel 'cheated' if they saw another girl like how hairdressers get mad at you if you get your hair cut somewhere else?
A:I have Had a couple of clients that I would see regularly . I wouldnt Be bothered by the seeing another provider . He may have a flavor for something kinda different . Who am I to Say he can't ? Lol
Q:How do you handle first-timers or those who have limited experience with escort services? What are your suggestions to such clients to make your encounter the most enjoyable?
A:I always Make everybody feel comfortable newbie or not so overall it all flows the same for everybody .
Q:If a client decided to make you a present, what would you be happy to receive? What is your wish-list (maybe flowers, lingerie, parfume, music albums, books etc.)?
A:Any gift would be accepted honestly . I like Money (of course) , lingerie , flowers , gift cards to wherever , clothes (or a shopping spree) , a new toy , cool little knick knacks, or whatever you think a lady would like
Q:What makes you notable among other providers? What exactly, you believe, you're good at? What makes your service unique? What is your favorite kind of service?
A:I feel like my personality only is really a winner . I have Been told that I feel like they are hanging with an old friend or a homie lol . I also Put all of my effort into everything that I do So no service provided is half-ass !
Q:How do you prefer a client to make an appointment? What information is important for you? Is screening required before the appointment?
A:There isn't really a preference for how the appointment is set up but I do Ask that they cooperate with all of my screening which is ALWAYS required .
Q:Do you ever get nervous before meeting a client? Is it kind of like preparing for a first date?
A:I'm always nervous just for the simple fact that you never know who you are truly going to meet . It could be the sweetest guy . It could also be a cop . Or even worse .........
Q:What sort of personality qualities does someone need to possess to be a successful escort?
A:You have to be a people person ! You also have to be very upbeat and bubbly , yet sensual and seductive at the same time .
Q:If someone wished to become an escort, how would you recommend they go about it?
A:Don't get lost in the money . This lifestyle has so much to offer if you go about it the right way . Your body , your rules . You never have to do anything you don't want to do .
Q:What are your dreams, future goals and aspirations? Short and long term?
A:In a nutshell , I want To be a business owner of multiple businesses ! The sky is the limit !
Q:What types of clients do you deny to meet? Are there any restrictions?
A:I do not date younger guys . That's my only restriction really
Q:What is the strangest request you have ever had from a client?
A:Strange is truly an understatement . I'd rather not disclose that lol
Q:Can you tell us a bit about your first escort job?
A:My first experience was a duo with a very close friend . I wasnt Even completely into escorting yet , but she knew I needed The help . She convinced me I really Didn't have to do much and she would do all of the work . Just be cute and tend to our client . Easy enough . We arrived at a VERY nice hotel (my first time ever in a 5 star hotel) . We had a drink at the bar then went upstairs to his room . Long story short i really didn't have to do much and he tipped us !
Q:What did you want to be when you were growing up?
A:I wanted to be a cosmetic surgeon .
Q:Has being an escort changed your view of men?
A:Yes COMPLETELY !
Q:How long have you been working as an escort?
A:It's been about 6 years or so
Q:How did you get into the escort business?
A:I was A college student working 2 jobs and not even coming close to taking care of myself let alone my daughter and you get siblings .
Q:What's the best bit about being an escort?
A:I get to travel and meet so many different and awesome personalities ! I don't think I would have experienced half of the things I've experienced in my lifetime if I wasnt An escort .
Q:What don't you like about being an escort?
A:I absolutely hate how some men view Us working ladies simply as a sex object . I know overall sex is the objective but I'm more than just my body !
Q:How often do you work per week?
A:It all depends on my days and schedule . I'm pretty much always in the clock unless my personal life calls for otherwise
Q:What are your turn-offs?
A:Bad hygiene , rude and aggressive guys , over expecting customers , liars , NO sense of humor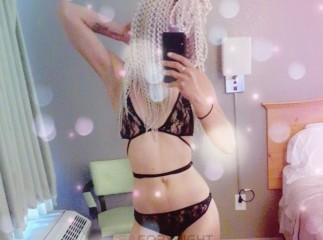 13 Oct 2019
Olivvia Ray Salt Lake City Escort - Interview
Q:Do you have a list of clients that you see regularly that you have formed a special bond with? Would you feel 'cheated' if they saw another girl like how hairdressers get mad at you if you g...
Read more