SeductressHTX San Antonio Escort - Interview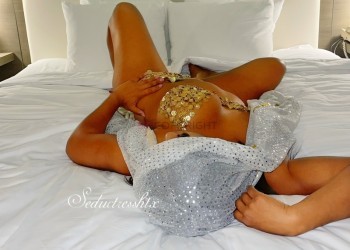 Q:Do you have a list of clients that you see regularly that you have formed a special bond with? Would you feel 'cheated' if they saw another girl like how hairdressers get mad at you if you get your hair cut somewhere else?
A:Absolutely not! Generosity should be spread safely.
Q:How do you handle first-timers or those who have limited experience with escort services? What are your suggestions to such clients to make your encounter the most enjoyable?
A:Do your research on the lady first. Determine what type of experience you would like. Then determine your budget.
Q:If a client decided to make you a present, what would you be happy to receive? What is your wish-list (maybe flowers, lingerie, parfume, music albums, books etc.)?
A:I mostly happy to receive cryptocurrency, lingerie, cash, gift cards, and large donations.
Q:What makes you notable among other providers? What exactly, you believe, you're good at? What makes your service unique? What is your favorite kind of service?
A:I'm A Real Sweetheart With Unmatched Skills And Qualities I'm An Absolute Gentleman's Choice. Beautiful, Easygoing, Articulate, Intelligent, And Undoubtedly Sweet! I Love To Spend Quality Time With A True Gentleman! Treat Me Right And I'll Make Your Day Or Night Simply Unforgettable. nMy Companionship Is Always Drama Free
Q:How do you prefer a client to make an appointment? What information is important for you? Is screening required before the appointment?
A:I prefer them to first do their research. I dont like clients to approach asking me if im real. Once they figure out who i am i prefer them to review my site that shows my availability. Then once they review everything they can use my booking form. From their we can have a phone call so that we are on the same page.
Q:Do you ever get nervous before meeting a client? Is it kind of like preparing for a first date?
A:Never
Q:How often do you work per week?
A:I have a busy schedule.
Q:What are your turn-offs?
A:Bad hygiene, lack of communication, haggling, not researching before you contact, cheap.
31 Oct 2016
Nailia-Interview
Q:Do you have a list of clients that you see regularly that you have formed a special bond with? Would you feel 'cheated' if they saw another girl like how hairdressers get mad at you if you g...
Read more